First, thanks and hugs to all who answered my call for recipe testers.
I was touched and overwhelmed by the flood of responses, well wishes, and good vibes that you sent my way! I'm sorry so that I could not respond to the 200+ emails I received, but I now have enough testers. Please consider yourselves alternates. Thank you, again.
Now, I would share with you 2 easy vegan snacks that you can prepare your home at your convenience time.
1. Wheat-free Soft Pretzels
Cinnamon-sugar pretzel (top) and pretzel sprinkled with nutritional yeast and herbs
Speaking of recipes, here are the Wheat-Free Soft Pretzels that will appear in the cookbook. Philadelphia is synonymous with soft pretzels, slathered with mustard. You can buy them at street carts throughout the city. But to be honest, I'm not crazy about these giant hunks of white, processed flour.
So using spelled flour, I made a less allergic, slightly healthier, much tastier version. I eat them plain, coated with lots of Earth Balance, or topped with either cinnamon sugar or nutritional yeast. They make wonderful lunch bag treats, plus they're fun to make.
Using a silpat mat makes working with the dough so easy: the dough doesn't stick, and clean-up is a breeze. First, roll the dough into long strips, then tie a little twist at the top of each.
Flip the "antennae" so that they reach the U-shaped "smile" at the bottom of the pretzel and voilà!
Ready for baking…
After baking, brush with melted Earth Balance. You can enjoy them right now, or…
Dip them in cinnamon sugar while they're still wet. Heaven!
2. Vegan Grilled Cheese Sandwich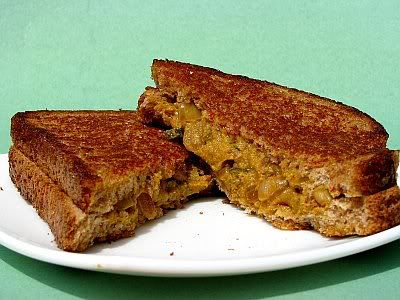 This is the world's best grilled cheese sandwich ever! Seriously! It isn't just the best VEGAN grilled cheese sandwich, it is the best grilled cheese sandwich period. I love these things, can you tell?
Crispy, salty on the outside, and creamy and spicy and CHEEZY on the inside!
Ingredients (makes 4 sandwiches)
1 yellow onion diced
3 cloves garlic diced
2 Tbsp vegan butter
2 Tbsp flour
1 cup hot water
2 Tbsp lemon juice
1 Tbsp miso paste
1 Tbsp spicy mustard
1 Tbsp soy sauce
1/4 cup pickled jalapenos chopped
1/2 cup nutritional yeast
pinch of salt and pepper
1/2 tsp cumin
8 slices of bread
butter to spread on the bread
-Saute the chopped onions on medium-high heat for 8 minutes, until they are soft
-Add the chopped garlic and continue cooking for another 2 minutes
-Lower the heat to low and add the 2 Tbsp of vegan butter and stir until completely melted
-Add the 2 Tbsp of flour and stir for a minute till the flour is completely combined with the butter, garlic, and onion
-Slowly add in the 1 cup of hot water, stirring continually until the flour and butter break down and form a thick creamy consistency with the water
* At this point the mixture will look a bit liquidy and not gooey enough to form a good grilled cheese sammy, have no fear! Once you add the nutritional yeast later on it will thicken up into a thick, cheesy consistency.
-Add the salt, pepper, cumin, and jalapenos
-Add the lemon juice, miso paste, soy sauce, and mustard
-Slowly stir in the 1/2 cup of nutritional yeast and stir and cook for another minute
-Remove cheese sauce from the heat and allow to come to room temperature while you spread butter on the outside of each piece of bread
-Spoon some of the fillings onto a piece of bread NOT on the buttered side, then top with another piece of bread
-On medium-high heat in a drizzle of olive oil cook the sandwiches buttered side down until they are brown and crispy. Top with a sprinkle of sea salt and enjoy!
3. Creamy Savoury Tartlets
Delicious little tarts that are perfect for a school cookery workshop or kids' party and adults love them too.
You can jazz them up further with some Cheatin Pepperoni or chunks of smoked tofu for adults, and Cheatin Ham for kids.
Ingredients
JusRol or similar puff or shortcrust

pastry

tomato puree

frozen

peas

1

red pepper

half a bunch of

spring onions

fresh

basil

(or dried

herbs

)

250ml

soya cream

(or sweetened

soya milk

)

av-pingrd">vegetable oil

plain flour
Method
Grease your baking trays with a little oil.
Cut out pastry circles and place in dips in your bun/muffin baking trays.
Spread a teaspoonful of tomato puree at the bottom of each.
Arrange chopped pepper and spring onions on top, and the peas too.
Meanwhile, heat 2 tablespoons of oil in a small pan and stir in 2 tablespoons of flour.
Whisk in a carton of soya cream until it thickens.
Chop up basil leaves and add to the cream mix.
Pour a little over each tart to cover the veg, and bake them in a pre-heated hot oven at 200-220C, for about 10 minutes until golden.
Eat immediately or chill and eat within a couple of days.
About
Difficulty: Kids
Preparation: Bake
Provides:

4 servings

Yields:

24

Vegginess: Vegan
Timings
Preparation:

15 minutes

Cooking:

10 minutes

Total:

25 minutes
Allergy details
Dairy free
Egg free
Yeast free
Nut free
4. Oatmeal with Berries
Looking for a breakfast that packs a nutritional punch? Try oatmeal with berries for fiber and antioxidants to start your day. Don't use instant oatmeal. There isn't as much fiber and some contain sugar. This recipe will keep your family full throughout the morning.
1 cup oats
3 cups water
1 Tbs. cinnamon
6 oz. vanilla low-fat yogurt
¼ cup raspberries
¼ cup blueberries
¼ cup blackberries
¼ cup honey
In a large pot, bring water to a boil. Add oats. Lower heat and simmer for 20 minutes. Add yogurt, berries, cinnamon, and honey. Stir and let simmer 10 minutes more. 4 servings.